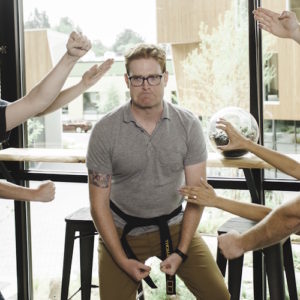 I'm a writer who currently lives in Bozeman, Montana. Over the course of my life, I've been a lumberjack, bus bouncer, delivery driver, crisis counselor, deli meat slinger, and domestic violence educator. Currently, I'm a writer and a teacher.
I love science fiction, bicycling, DIY nonsense, and dogs. I'm a vegetarian, and I got a black belt in the fourth grade, which is now expired.
This blog is partially a blog, and partially a summary of my work to this point. I've done many-a-blog in the past, and, frankly, most of them have been failures, mostly due to my lack of interest in providing tons and tons of content. However, I'm trying something new with this one, which will serve as a portfolio, as well as a blog. I'm an admirer of Kris Straub, who is completely unafraid of leaving work from the deep dark past on the web and professing ownership to it. Rather than be a revisionist like some, I've decided to display all of my published work (even stuff from high school), as well as making an effort to bring back some of the things I've disposed of in the past. So, every now and then, you can head on over to the Work page, which will have my latest projects, as well as some archived stuff from the past that I've resurrected.
You can follow me on twitter @thomastalketh, on Instagram, or email me at thomas@therealthomaswells.com